Exercising Influence

Building Relationships and Getting Results
Program Description
Exercising Influence™ is the most popular influence training program worldwide. To be successful in today's cross-functional, matrixed or other complex organizations, you need to be skillful and flexible in the way you influence others. Effective influence skills help you and your organization to build the relationships necessary to get positive results with colleagues, customers, suppliers, and others, regardless of your positional power. You can move your ideas into action by stimulating others to support, allow, provide resources for, or participate actively in your initiatives.
This accelerated learning program uses a "fitness model" to develop your strength, focus, and flexibility as an influencer. Feedback, gathered before, during, and after the program, provides valuable insights into your personal strengths, and points out areas for potential growth. You will develop new skills and behaviors as you work on real-world business situations. Using exercises, feedback, and practical tools, you will plan and prepare for important influence opportunities up, down, across, and outside your organization. Exercising Influence® is a just-in-time learning opportunity that you can apply immediately to resolve problems and achieve outstanding business results.
As an element of our blended learning approach, Barnes & Conti offers web-based performance support and personal coaching for participants who would like to deepen and extend what they have gained in the Exercising Influence® workshop. You can work with an experienced coach face-to-face or via phone or video in order to gain deeper insight, develop greater precision, and apply new or improved skills to your important influence opportunities.
Exercising Influence is available virtually as one of our "Learning Journeys."
Feedback from A Recent Virtual Workshop:
"(I liked) a lot of preparation before the class (and) the group work which was possible even over Zoom."
"I would like to compliment the instructors/hosts for handling this over Zoom. Appreciate the effort. It... worked and was... effective. Great job."
—Managers, Large US University

For more information on Exercising Influence™, click here.
Exercising Influence™ is a copyrighted program of Barnes & Conti Associates, Inc.
Program Objectives
As a participant, you will be able to:
Assess your current use of influence behaviors, identify areas for growth, and develop additional skills.
Practice behavioral influence skills and receive feedback in order to develop effective behaviors.
Define clear and powerful influence goals.
Deploy a strategic and tactical approach to influence.
Apply a contextual framework to analyze the "big picture" and cultural complexities of your real-world influence challenges.
Plan and practice approaches for successfully influencing up, down, across, and outside of your organization.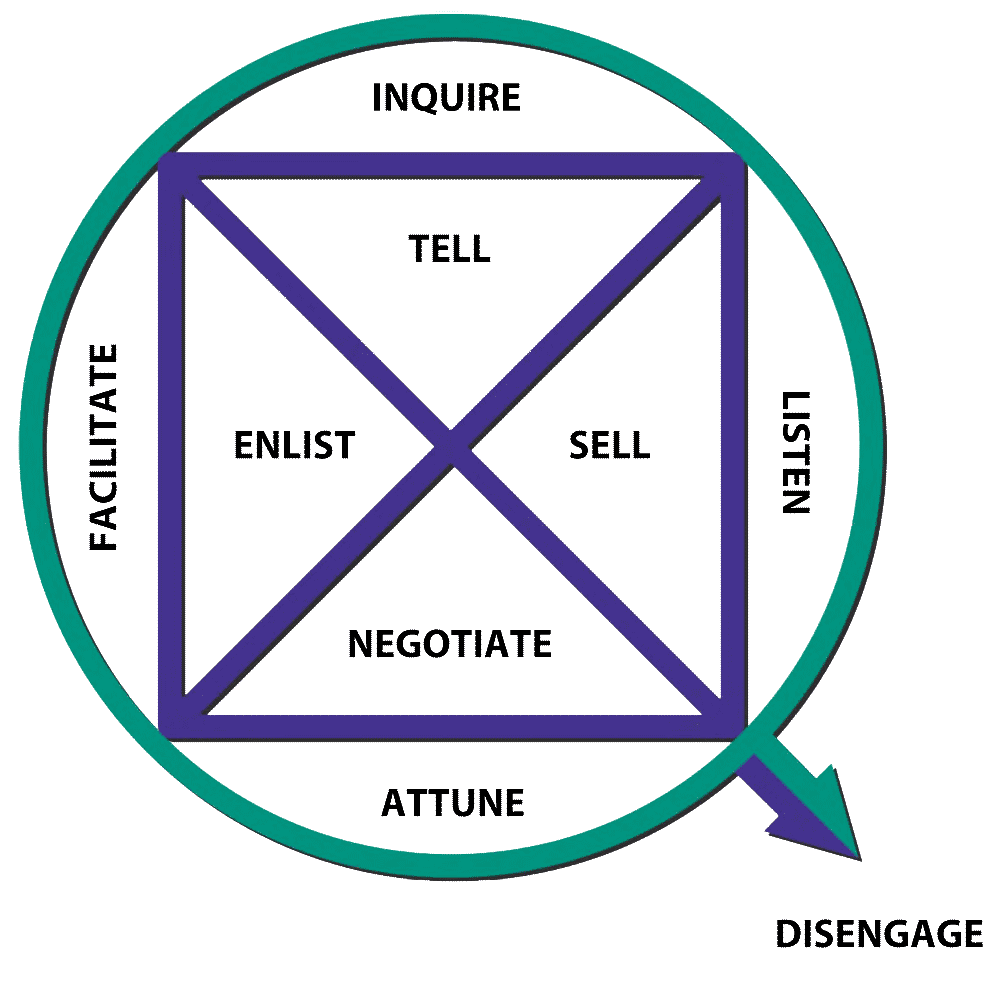 What our clients say:
"The best endorsement for Exercising Influence is the fact that of that the program has survived at my organization for more than 15 years. At my organization, there has been a strong movement to build in-house and eliminate vendor products, but Exercising Influence has survived. Why? Because it is simply the most applicable and simple model for immediate results. A learner walks out of the classroom with skills one can apply in one's very next influence conversation. "
—Vice President of Leadership & Management Development, Global Financial Services Company
"I got so much value out of the Exercising Influence class, that I did it twice. The second time was just prior to negotiating a job offer. The class did a great job of explaining what influence is, and what strategies are available. I loved that I came in with a survey filled out by my peers that helped me see which of my strategies could use the most development, so I could focus on those in class. I got to role-play my upcoming job negotiation with a classmate and practice my technique. When I went in for the meeting a few days later, I was able to co-create an opportunity that became a very exciting career step. I still see my room for growth, but now I know how to grow! Thank you for this excellent class!"
—Rona Kremer, Synergician
"One of the best books and programs on influence that I have worked with. This could not be more important or relevant in today's world where influence is key to success. The straightforward approach, relevant examples and exercises are great for those that need a refresher or just beginning on their corporate or personal journeys."
—Vice President and Principal Consultant for Talent Management
"I am a huge fan of Barnes & Conti. Exercising Influence is an engaging, practical, and evidence-based program that increases your capacity to affect the actions of others. Whether you're a new or an experienced leader, you'll benefit greatly from the program. It's one of the best programs on the market."
—Jim Kouzes, Author of the best-selling book, The Leadership Challenge
"I highly recommend Exercising Influence. It's an outstanding program on the complex topic of influence. We have used the program in both open session format as well as intact teams with excellent results. The program has high applicability for many audiences."
—Corporate Vice President, Human Resources, International Aerospace Company
"I continue to use this outstanding program and related materials to help execute complex projects involving numerous stakeholders and geographies three years after taking the course. The instructional materials and classroom exercises are both well-designed and focused on real skill-building."
—Knowledge Manager
Podcast on Exercising Influence
Barnes & Conti CEO Kim Barnes talks about how the importance of influence skills both at work and outside of work.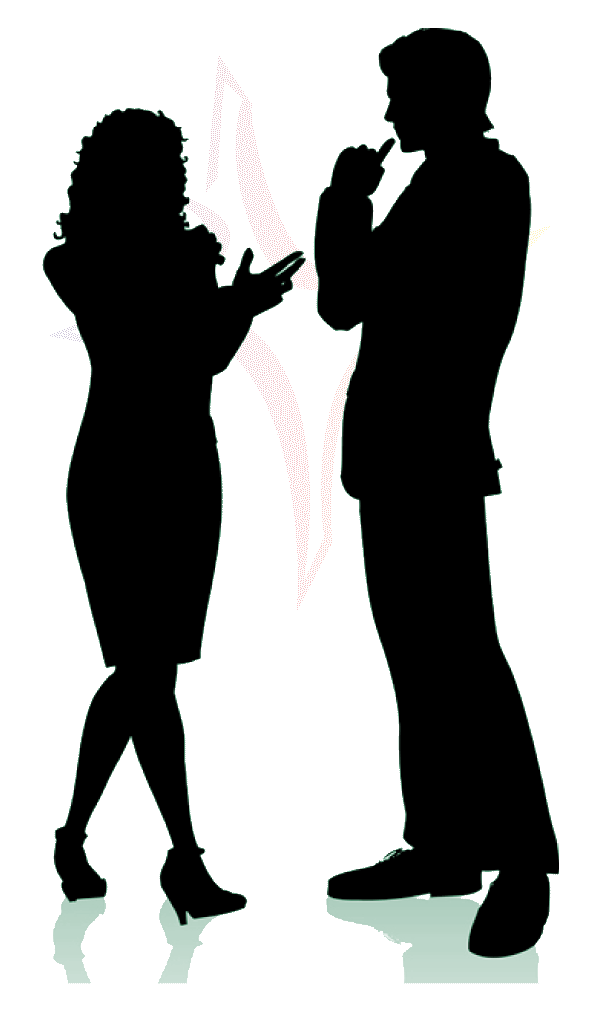 Video: Influence: An Introduction
In this brief video, B. Kim Barnes introduces some of the main concepts and models of the popular global influence training program: Exercising Influence™ as a way to improve our abilities in influencing others. Kim is the CEO of Barnes & Conti Associates, and author of Exercising Influence: Making Things Happen at Work, at Home, and in Your Community (John Wiley & Sons) now in its revised third edition.
More Influence Skills Training Programs
Barnes & Conti has adapted the concepts, tactics, and behaviors of Exercising Influence for the specific influence skills training needs of leaders in your organization, including internal consultants, innovators and innovation managers, and more.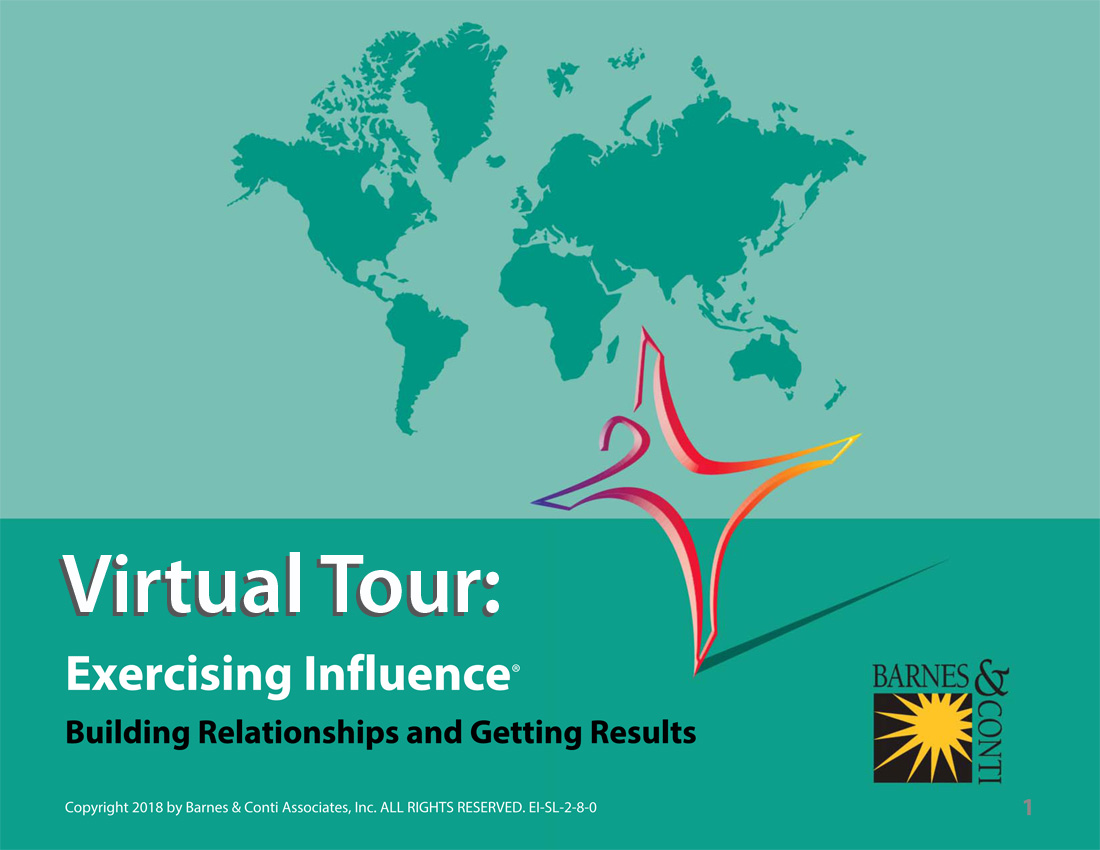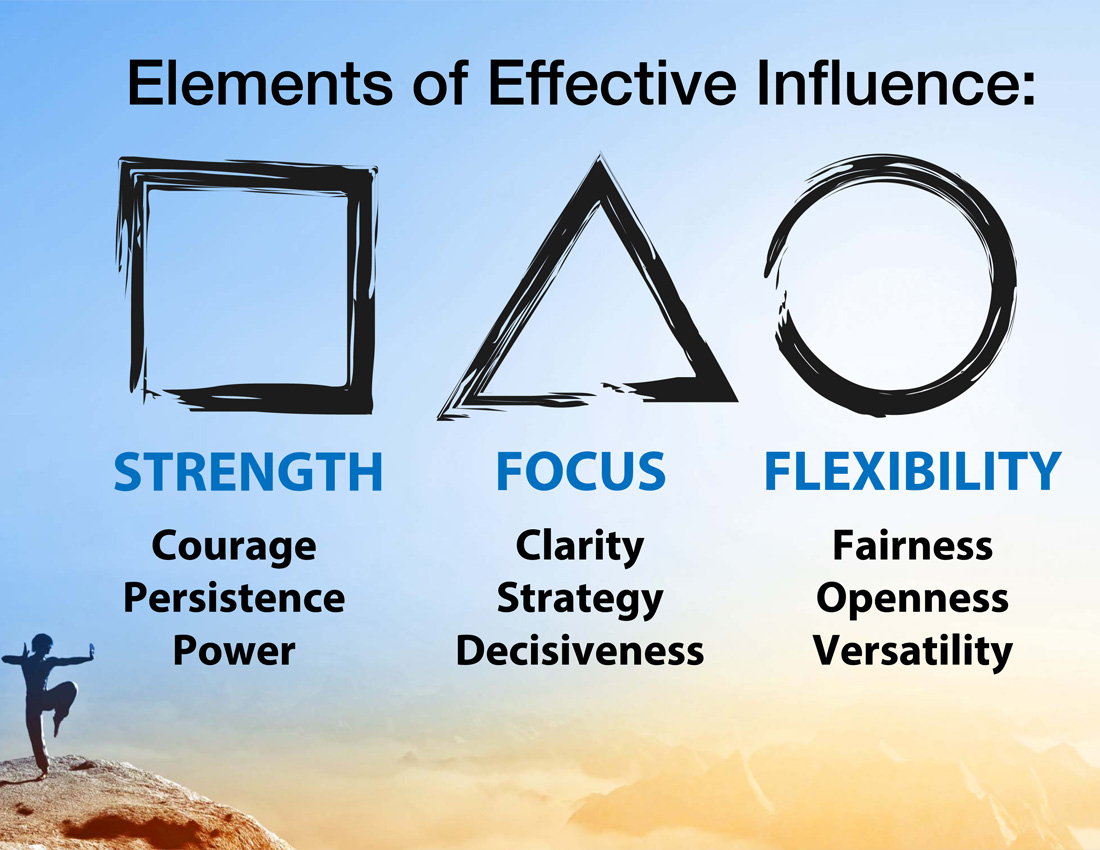 Influence fitness, like physical fitness, has three attributes: strength, flexibility, and focus. In this program, behavioral practice will help you develop and "train" for both strength and flexibility.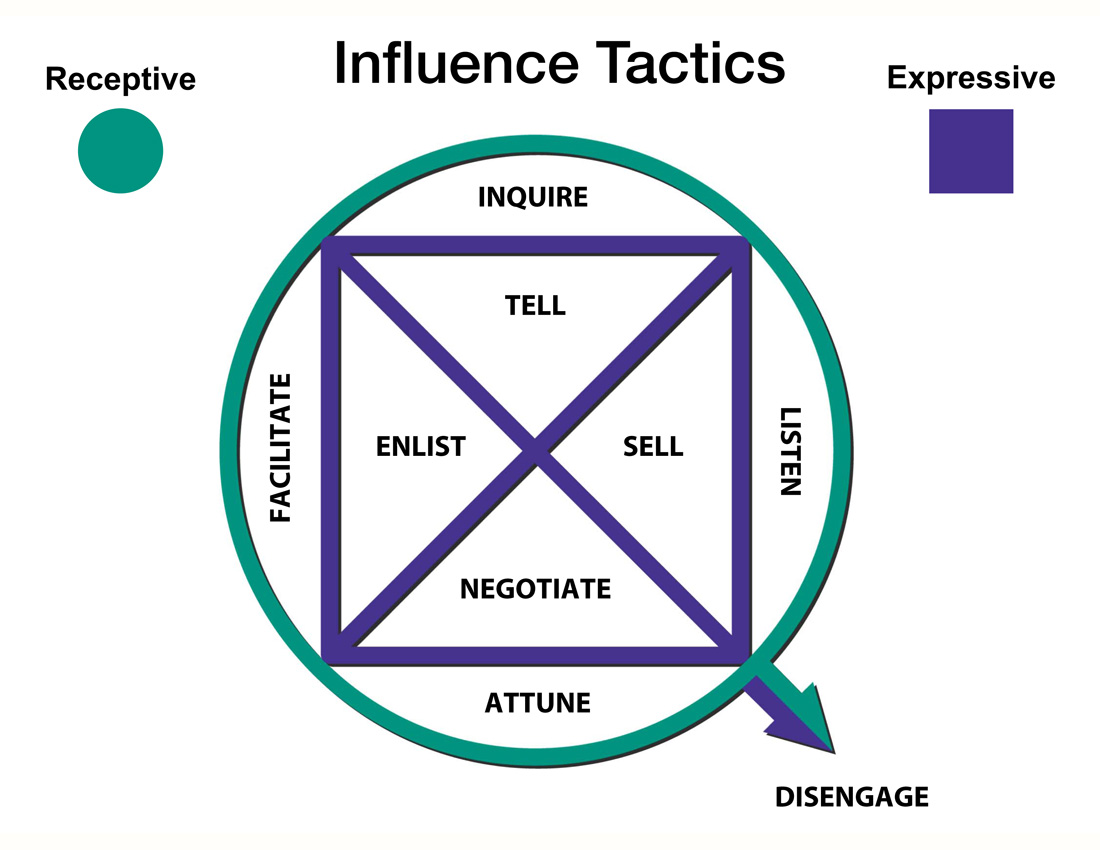 Participants learn effective influence skills through the tactics and behaviors of the Exercising Influence Model.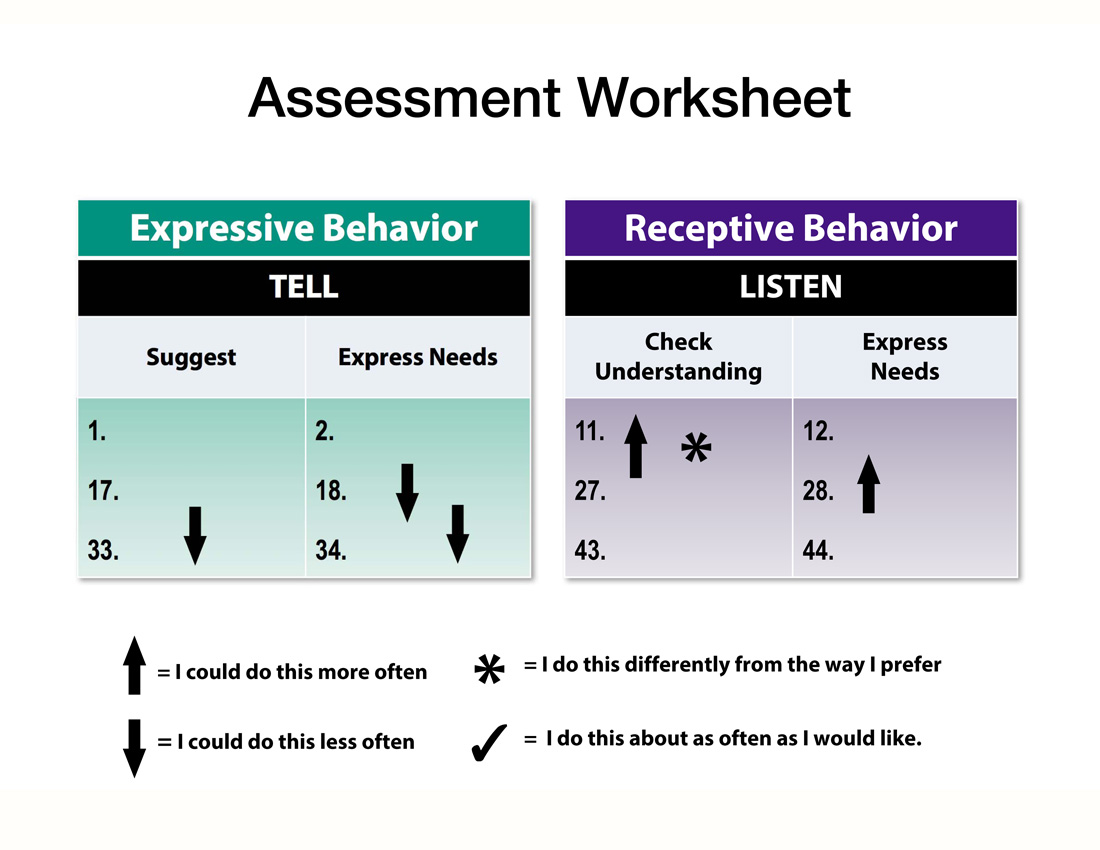 Participants gather feedback before the course, which is interpreted within the Exercising Influence Model of tactics and behaviors.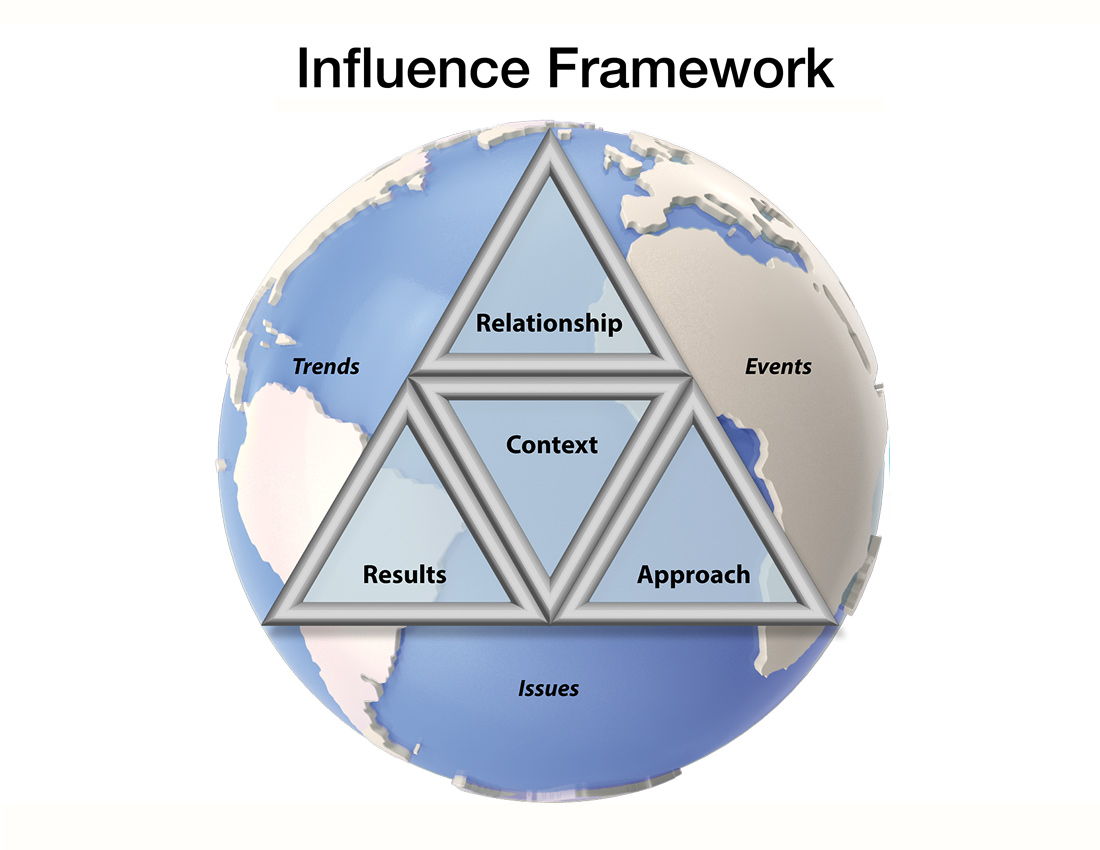 The Influence Framework provides the basis for planning an approach to any influence situation. Using the framework, participants will be prepared to develop a successful influence plan.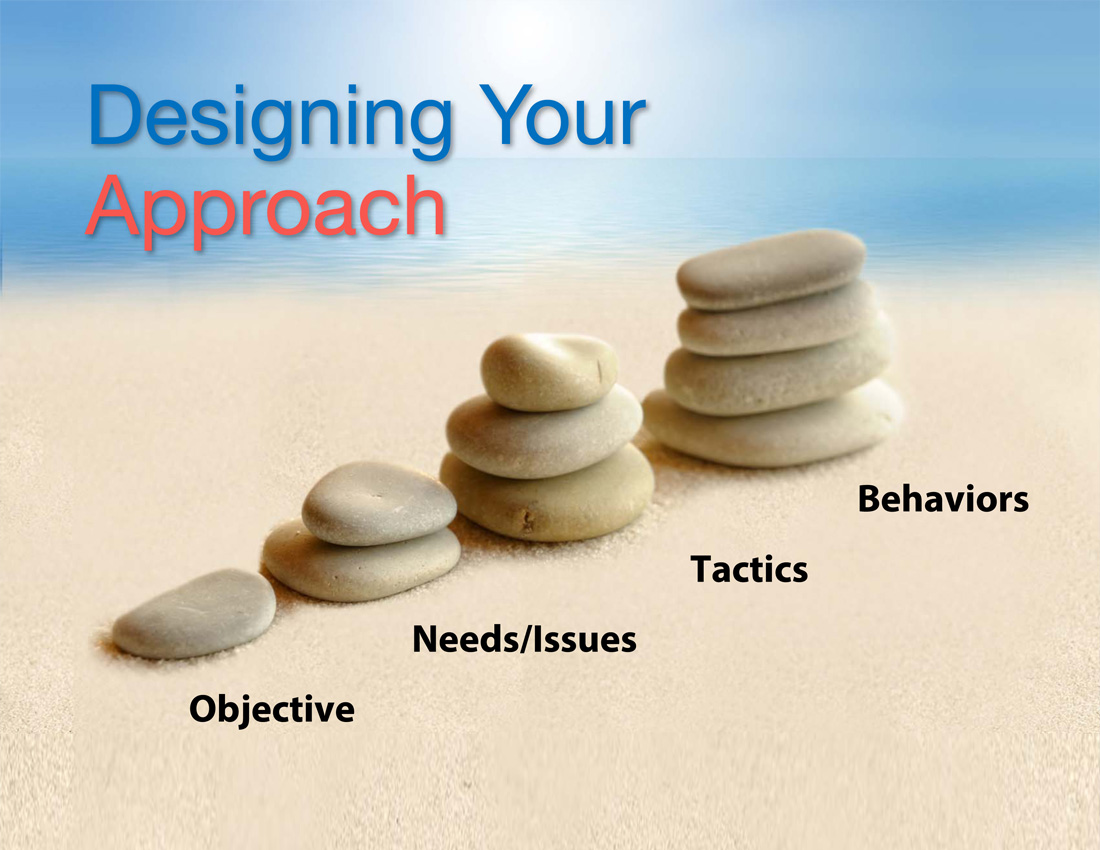 A crucial part of influence skills training is for each participant to develop at least one influence approach and plan for a situation that they are facing.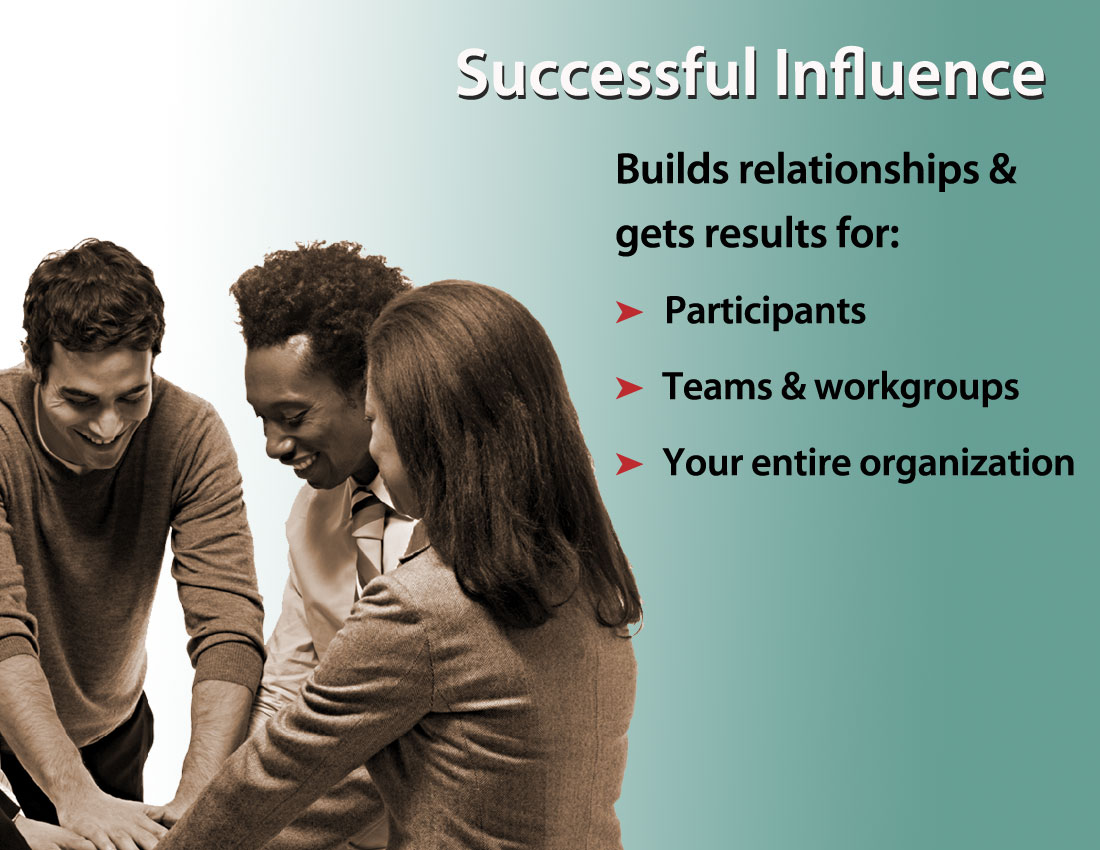 Contact Barnes & Conti to see how Exercising Influence™ can help your organization move ideas into action and achieve outstanding results.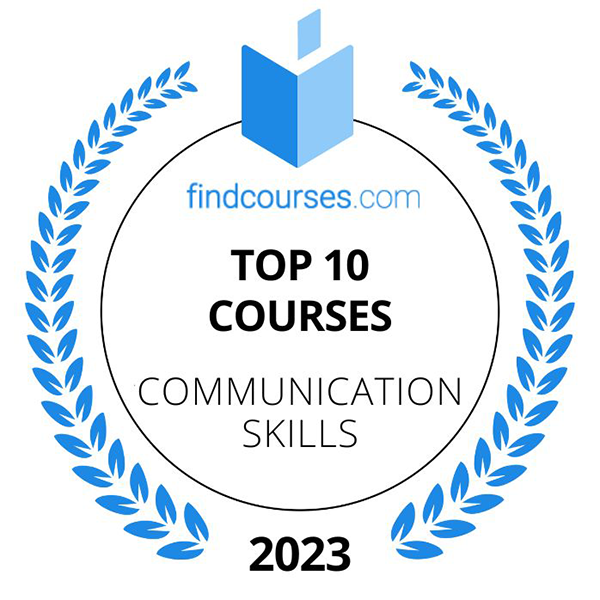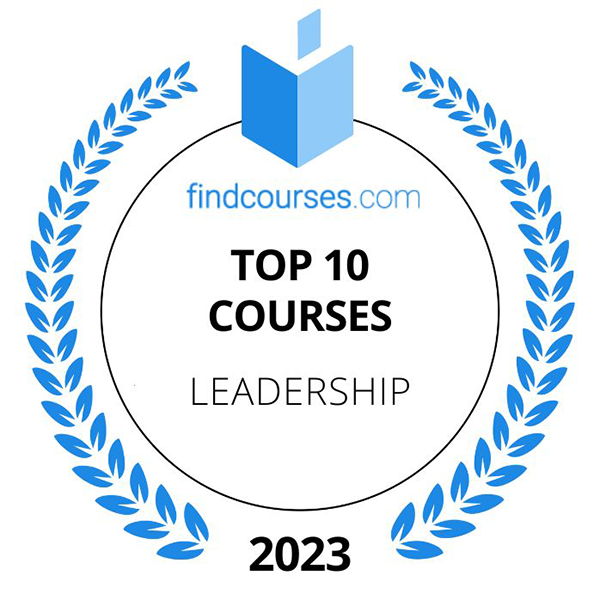 Findcourses has selected Exercising Influence as one of their Top 10 Communication Skills Courses of 2022 & 2023, and as one of their top Leadership Courses of 2023!
About Barnes & Conti

Influence & Communication

Innovation &
Risk-Taking

Decision-Making & Problem Solving

Leadership

Internal Consulting

Change Management

Resources

Apps for Mobile Devices

Follow Us!