The Barnes & Conti Bookshelf
Murder on the 33rd Floor


A Corporate Mystery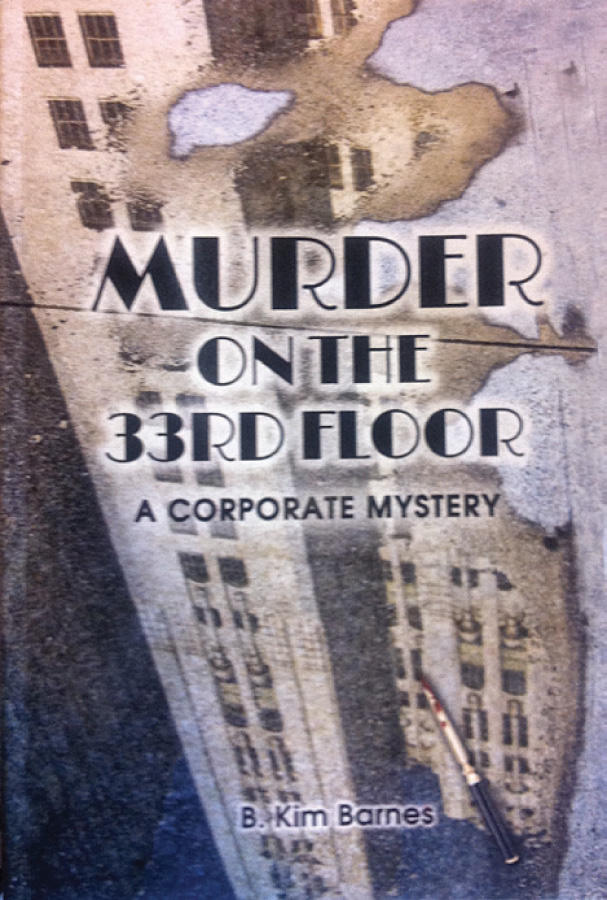 Did you read the Nancy Drew stories when you were growing up? Did you ever imagine yourself as the hero or heroine who solves the mystery, gets the bad guys, and saves the day? B. Kim Barnes, author of Exercising Influence: Making Things Happen at Work, at Home, and In Your Community (Pfeiffer/Wiley, 2006) and co-author, with Beverly Scott, of Consulting on the Inside: A Practical Guide for Internal Consultants (ASTD Press, 2011) has written a detective story for and about you.
In this "corporate cozy" mystery, an internal organizational consultant is confronted by the murder of a senior executive. Working with an inspector from the San Francisco police department, she unravels the political issues and discovers the dark secrets that create fear and loathing in a traditional corporation.
About the Author
B. Kim Barnes is the CEO of Barnes & Conti Associates, Inc., of Berkeley, California, an independent learning and organization development firm. She has had over 30 years of experience in the fields of management, leadership, and organization development, working in both internal and external roles in a broad range of industries. Kim is a frequent speaker at national and international professional conferences. Her articles have been published in professional journals in the U.S. and abroad. She is the primary developer of leadership programs such as Exercising Influence, Constructive Negotiation, The Mastery of Change, Inspirational Leadership, Intelligent Risk-Taking, Creating a Culture for Risk and Innovation, C.O.A.C.H. for Peak Performance, Applied Creativity, The Art of Communication, and Leading World-Class Teams, all of which are copyrighted programs of Barnes & Conti. She co-developed the popular program, Managing Innovation, Driving Ideas from Strategic Initiative to Value Creation along with Dr. David Francis, of the University of Brighton's Centre for Research in Innovation Management.
Kim's work has been translated into Spanish, French, Portuguese, Japanese, Hungarian, Lithuanian, Polish, Danish, German, Hebrew, Thai, Korean, and Chinese. She was a contributor to the book, Profiles in Coaching: The 2004 Handbook of Best Practices in Leadership Coaching, published by Linkage Press. The second edition of her book, Exercising Influence: A Guide for Making Things Happen at Work, at Home, and in Your Community, was published by Pfeiffer/John Wiley in 2007. Her most recent business book, co-authored with Beverly Scott, is Consulting on the Inside: A Practical Guide for Internal Consultants, published in April of 2011 by the American Society of Training and Development (ASTD). After completing this book, Kim was inspired to begin writing a tongue-in-cheek corporate mystery series with an internal organizational consultant, Sarah Hawthorne, as the protagonist. The first book of the series, Murder on the 33rd Floor, is being published in early 2012.
Kim holds a master's degree in Human Development. Her clients include Abbott Laboratories, Cisco Systems, CitiGroup, the Haas Business School of the University of California, Medtronic, NetApp, San Francisco General Hospital, and the U.S. Department of Energy, among many others. She resides in the San Francisco Bay Area.
What Others Are Saying:
"Even though I've published 58 nonfiction books… I've been hooked on mysteries my entire life. Kim Barnes writes a well-paced whodunit that will keep you guessing and turning the pages. Kim's experience adds validity and her enthusiasm adds fun. This is a recipe for success. Get in line for Kim's next book; this is sure to be a successful series. "
—Elaine Biech Author, The Business of Consulting
"What an amazingly "novel" way to learn! Kim has always been uber-creative…and is at her best in this wonderful creation. Her deep knowledge of the field of organizational development comes through loud and clear, as well as her decades of work in the field and her wonderfully warm and real writing style. This is a must-read for anyone in the field, or anyone who just plain wants a good read! The story goes quickly, you will truly 'get' the characters! It held my attention from beginning to end! Bravo to the author."
—Beverly Kaye, Founder/CEO, Career Systems and Author, Love 'Em or Lose 'Em, 4th edition
"I've never read a book about an OD consultant before... and it was quite amusing to find myself being 'biographied' in the book—absent the murders, of course! Sarah's musings... reminded me of my daily thoughts and the questions that surface as I do my work. It was like the words were coming out of my mouth! Some of her comments... were things I've actually said or thought, especially how to explain the job to others! I found myself paying as much attention to her OD comments as I did the murders. It was fun and think it would make a fun movie and educate people about OD!"
—Lynne Andia, Senior Internal Consultant, global manufacturing firm
"Murder on the 33rd floor is a fun read! It's not easy to describe what an OD consultant does but Kim Barnes has captured the profession perfectly in Sarah. She manages to delicately probe the corporate intrigue while maintaining her professional ethics. While most of us have never had to deal with a murder investigation inside a company, thank goodness, we regularly wrestle with the corporate personalities and politics. Bravo!
—Charlene Rothkopf, Executive Coach, OD Consultant, and former Corporate HR Executive.
About Barnes & Conti

Influence & Communication

Innovation &
Risk-Taking

Decision-Making & Problem Solving

Leadership

Internal Consulting

Change Management

Resources

Apps for Mobile Devices

Follow Us!