The Barnes & Conti Bookshelf
Murder on Retreat


A Corporate Mystery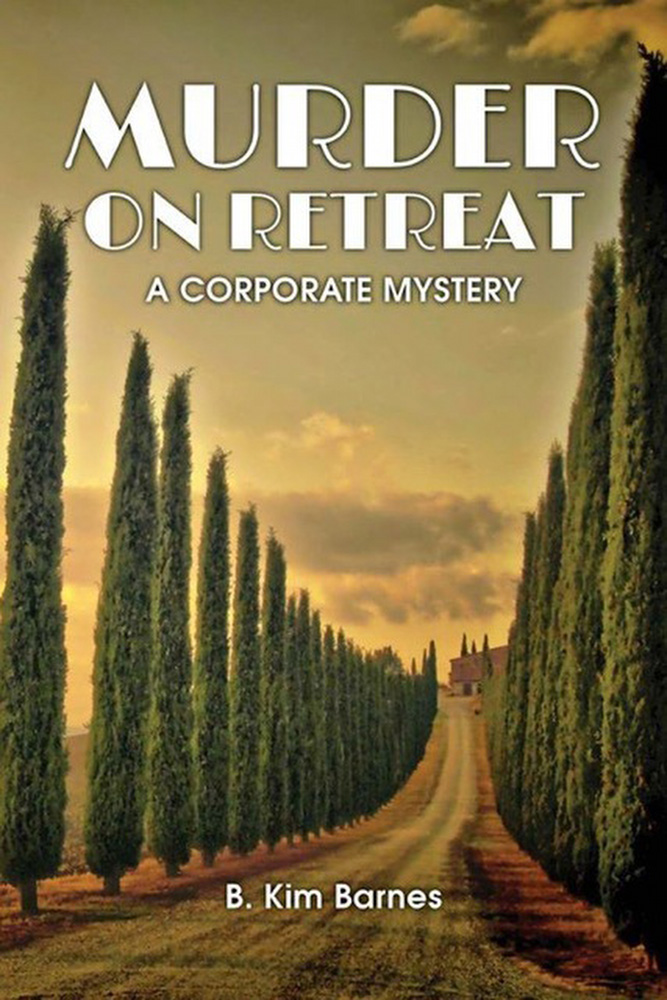 Sarah Hawthorne is a successful organizational consultant. She has big plans to overhaul Martech Corporation's outdated business model, so she's surprised when the CEO hires an eccentric business guru named Scorpio who claims to be Martech's savior. Scorpio and his cronies plan an executive retreat at a posh Napa Valley resort, and despite her misgivings, Sarah agrees to participate
The retreat is a disaster. Scorpio is more of a cult leader than a corporate consultant, and Martech's executive team rebels against Scorpio's intense and inflammatory tactics. They don't realize, however, that he won't be a problem much longer. The next morning, Scorpio is found dead in the sauna.
Sarah immediately throws herself into solving the mystery of Scorpio's murder, much to the annoyance of her husband. But soon she unlocks old employment secrets, broken promises, and shady financial alliances, all while fighting off her growing attraction to one of the murder suspects. Scorpio isn't the only one who ends up dead, however, and Sarah's powers of deduction eventually put her in the danger zone.
Murder On Retreat, the sequel to Murder On The 33rd Floor, is the second in B. Kim Barnes's series of witty mysteries starring Sarah Hawthorne.
About the Author
B. Kim Barnes is the CEO of Barnes & Conti Associates, Inc., of Berkeley, California, an independent learning and organization development firm. She has had over 30 years of experience in the fields of management, leadership, and organization development, working in both internal and external roles in a broad range of industries. Kim is a frequent speaker at national and international professional conferences. Her articles have been published in professional journals in the U.S. and abroad. She is the primary developer of leadership programs such as Exercising Influence, Constructive Negotiation, The Mastery of Change, Inspirational Leadership, Intelligent Risk-Taking, Creating a Culture for Risk and Innovation, C.O.A.C.H. for Peak Performance, Applied Creativity, The Art of Communication, and Leading World-Class Teams, all of which are copyrighted programs of Barnes & Conti. She co-developed the popular program, Managing Innovation, Driving Ideas from Strategic Initiative to Value Creation along with Dr. David Francis, of the University of Brighton's Centre for Research in Innovation Management.
Kim's work has been translated into Spanish, French, Portuguese, Japanese, Hungarian, Lithuanian, Polish, Danish, German, Hebrew, Thai, Korean, and Chinese. She was a contributor to the book, Profiles in Coaching: The 2004 Handbook of Best Practices in Leadership Coaching, published by Linkage Press. The second edition of her book, Exercising Influence: A Guide for Making Things Happen at Work, at Home, and in Your Community, was published by Pfeiffer/John Wiley in 2007. Her most recent business book, co-authored with Beverly Scott, is Consulting on the Inside: A Practical Guide for Internal Consultants, published in April of 2011 by the American Society of Training and Development (ASTD). After completing this book, Kim was inspired to begin writing a tongue-in-cheek corporate mystery series with an internal organizational consultant, Sarah Hawthorne, as the protagonist. The first book of the series, Murder on the 33rd Floor, is being published in early 2012.
Kim holds a master's degree in Human Development. Her clients include Abbott Laboratories, Cisco Systems, CitiGroup, the Haas Business School of the University of California, Medtronic, NetApp, San Francisco General Hospital, and the U.S. Department of Energy, among many others. She resides in the San Francisco Bay Area.
What Others Are Saying:
"If you love a murder mystery, plus a diverse group of characters, plus corporate politics, plus a full range of human emotions, this book is for you. All with San Francisco and Napa landmarks as the background stage. I especially recommend this to my HR, Training and Organizational Development colleagues. I could not put this down, and finished it in a record three days! "
—John Castaldi, Senior Facilitator and Consultant
"Another remarkable book from B. Kim Barnes! As an HR Professional, it's a wonderful treat to see the myriad of issues that HR/OD sees on a daily basis highlighted in a fiction book. Full of so many twists and turns…it'll keep you guessing until the end! A truly pleasurable read.
—Jennifer McCaffery, Senior HR Business Partner
"Barnes writes with the same elegant clarity and formality that enrich her nonfiction… Character development is deft and sure, with particularly appealing diversity among the characters… The novelty of a business consultant in a detective role also adds to the enjoyment… An unusual concept and strong characters shine through…
—Kirkus Reviews
About Barnes & Conti

Influence & Communication

Innovation &
Risk-Taking

Decision-Making & Problem Solving

Leadership

Internal Consulting

Change Management

Resources

Apps for Mobile Devices

Follow Us!