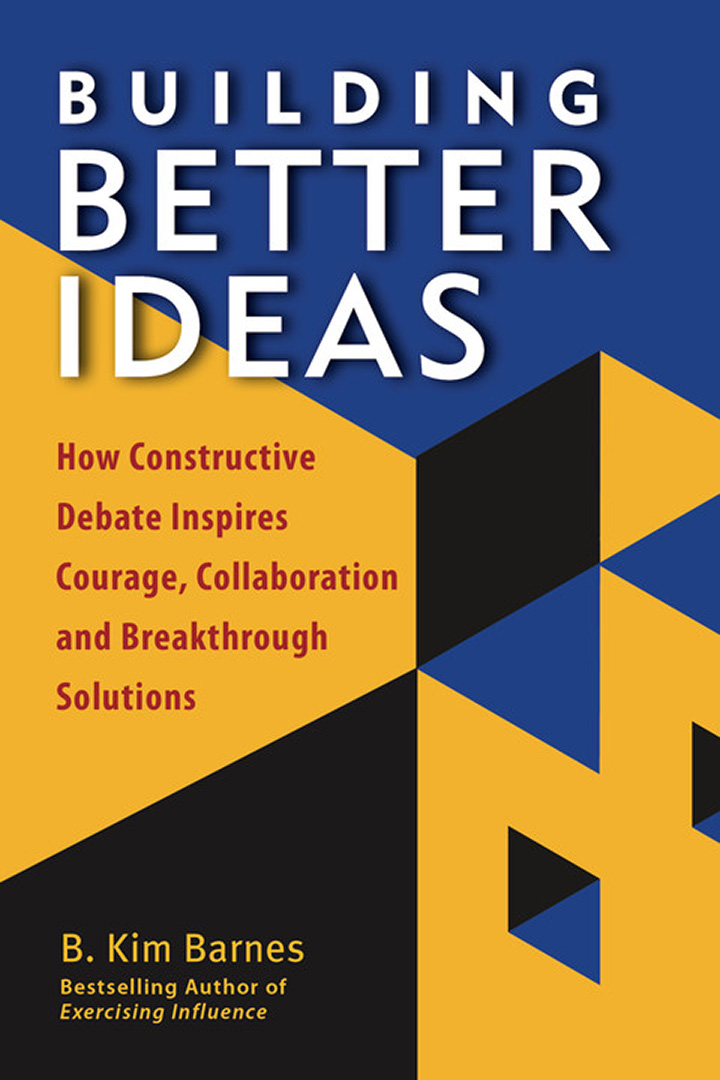 Building Better Ideas: How Constructive Debate Inspires Courage, Collaboration and Breakthrough Solutions
Why do teams settle for bad ideas or kill good ones? Popular consultant, Kim Barnes' unique process of Constructive Debate shows how teams can create better ideas and outcomes by eliminating obstacles to honest discussion, creativity, and collaboration.
In too many organizations, great ideas and unusual solutions can be suppressed, ignored, or attacked. Departments defend their turf, and people choose what is safe over what is better. Honest opinions often show up in the "meeting after the meeting" because people fear conflict or repercussions. Bad ideas move forward and good ideas die, which can lead to disastrous results--financial or otherwise.
Luckily, there is a workable path out of this dysfunction. Kim Barnes's process of Constructive Debate shows how to establish conditions that encourage the free exchange, discussion, and development of ideas and eliminate conditions that prevent potentially useful ideas from getting heard. By using this tested model, any company or team can improve outcomes and bring out everyone's best ideas.
Preorder from Amazon (Publication is set for November of 2019)
About the Author
B. Kim Barnes is co-founder and CEO of Barnes & Conti Associates, a global leadership development firm based in Berkeley, California. She holds a master's degree in human development and has more than 35 years of experience, including external and internal consulting roles with organizations in a broad range of industries. Barnes is a popular speaker and seminar leader worldwide, and she lives in the San Francisco Bay Area.
Barnes has been instrumental in developing successful training programs, including Exercising Influence, Managing Innovation, Constructive Negotiation, as well as Constructive Debate, all of which are copyrighted programs of Barnes & Conti. Barnes's work has been translated into twelve languages.
About Barnes & Conti

Resources

Apps for Mobile Devices

Follow Us!

Influence & Communication

Innovation &
Risk-Taking

Decision-Making & Problem Solving

Leadership

Internal Consulting

Change Management