The Barnes & Conti Bookshelf
Consulting on the Inside
Consulting on the Inside: A Practical Guide for Internal Consultants,

Second Edition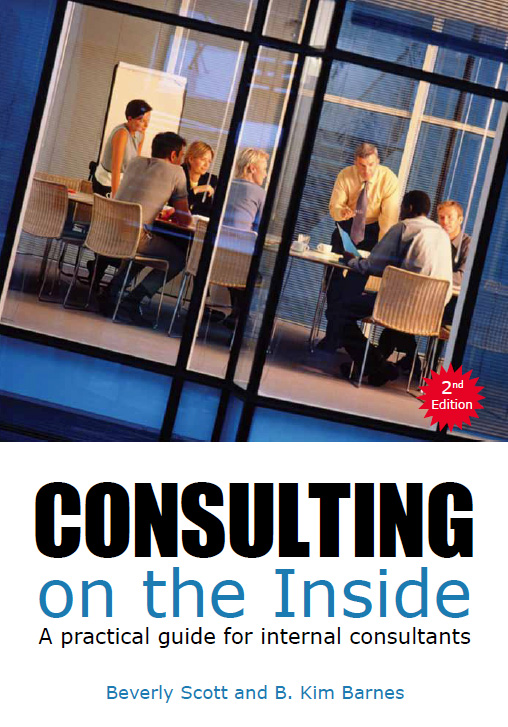 Are you an internal consultant—a staff member who serves in a consultative role within your organization? Then you need this hands-on guidebook to help you better understand your role and improve your performance.
Whether you're a change agent, trusted advisor, or someone who serves in varying capacities, it's important to design your job, develop a formal agreement, and build your practice.
Consulting on the Inside provides a solid background for internal consultants and serves as a roadmap for cultivating a successful career. You'll learn how to:
Maintain an outsider's objectivity while applying an insider's knowledge of the organization
Build relationships but be up-front about challenges and issues
Design your role to fit the client's needs and the organizational situation
Handle roadblocks and deal effectively with difficult clients
Market your consulting services within the client organization.
About the Authors
B. Kim Barnes is co-founder and CEO of Barnes & Conti Associates, a global leadership development firm based in Berkeley, California. She holds a master's degree in human development and has more than 35 years of experience, including external and internal consulting roles with organizations in a broad range of industries. Barnes is a popular speaker and seminar leader worldwide, and she lives in the San Francisco Bay Area.
Beverly Scott has served as both an internal and external consultant in a wide range of organizations for more than 35 years, including 15 years as director of organization and management development for McKesson. Her background includes master's degrees in sociology and human resource development, and she has completed her doctoral coursework. Scott is a speaker and facilitator for many professional associations and has taught organizational psychology at John F. Kennedy University. She resides in San Francisco.
What Others Are Saying:
"...READ THIS BOOK! Consulting on the Inside is the most practical, useful, and well written resource available on this ever evolving and growing role. I guarantee you will learn something about the role requirements, yourself and those who work in this demanding field and serve as a great reference book for years to come."
—Ann Herrmann-Nehdi CEO, Herrmann International
"...Bev and Kim ensure your success from helping you define your internal consulting role, to overcoming the most common challenges, through ensuring successful implementation. They do this with the practical ease of consultants who really know their business. Consulting on the Inside sits obligingly on my bookshelf within easy reach at all times."
—Elaine Biech, Author of The Business of Consulting
About Barnes & Conti

Influence & Communication

Innovation &
Risk-Taking

Decision-Making & Problem Solving

Leadership

Internal Consulting

Change Management

Resources

Apps for Mobile Devices

Follow Us!