The Barnes & Conti Resource Library
How to keep the "HUMAN" in Human Resources and Talent Development in the Global and Digital Age
by Nelson Soken, Ph.D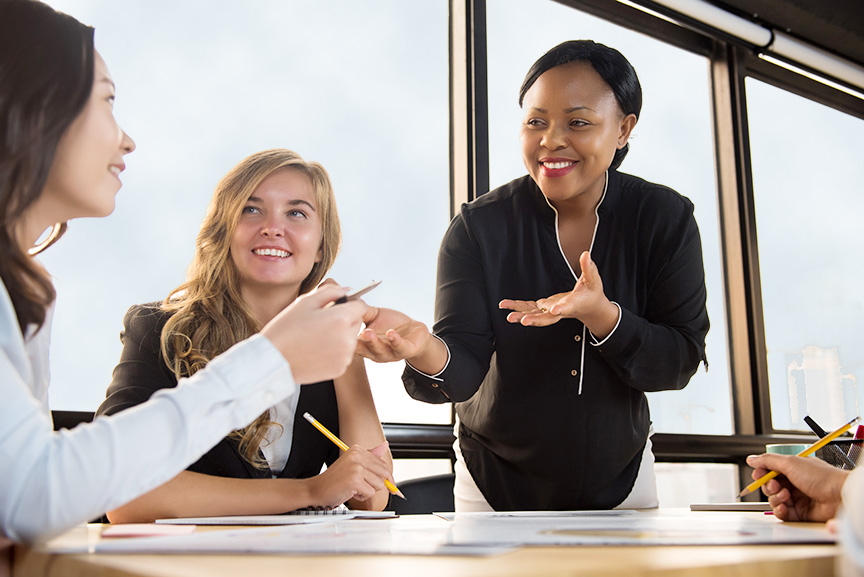 Companies need to deal with and adapt to a plethora of factors in an ever-changing business landscape. Just to name a few of the dimensions businesses must consider:
Globalization and Geographic Dispersion
Multiple Business Units
Mergers and Acquisitions
Geopolitical Disruption
Macroeconomic Shifts
Competitive Threats from Traditional and Emerging Unexpected Competitors
Business Model Disruptions,
Multi-Generational,Multi-Cultural, and Multilingual Workforces
A common observation from my work in global organizations across all industries is that companies are grappling with how to continually identify, retain, and build the skills of their workforce in an ever-shifting business climate. The challenge is to provide timely and cost-effective skill-building and talent development offerings that ultimately drive company growth.
Technology, including micro-learning and Artificial Intelligence (AI), will clearly play a role in the future of HR and talent development. For example, IBM has created a suite of AI-based talent development tools called IBM Watson Talent developed by behavioral scientists, AI experts, and industrial-organizational psychologists. These tools provide support for recruitment, career coaching, competencies/skill development, and employee unconscious bias identification but they cannot stand-alone. (cf. "IBM Talent Business Uses AI To Rethink The Modern Workforce")
Regardless of the technology and digital transformations, a set of workforce mindsets and skill-sets are universally required for an organization and its employees to be successful; we often refer to these as "soft skills" although "difficult human interaction skills" may be the more descriptive label. Ultimately, technology can provide the delivery mechanisms required to address the ever-changing and fast-paced nature of the current business environment but it is the quality of the interpersonal skills that will make the critical difference in business outcomes.
Investing in the future workforce is challenging but well worth the effort as we move forward in this new landscape. If you peruse recent articles, various sources identify key skills required for professional and organizational success. A few I found to be illuminating are:
A LinkedIn Survey highlighted five soft skills that companies need in 2019. They include creativity, persuasion, collaboration, adaptability, and time management.
In a Harvard Business Review piece, the authors identify critical skills that protect employees' careers in a world of future automation. The seven skills that they recommend for everyone are communication, deep domain content knowledge, contextual knowledge about the domain, emotional competence, ability to teach others, connections and a network, and ethics and moral judgment.
In another Harvard Business Review piece, the authors identify six soft skills required in a nimble, digital organization. Interestingly, the skills apply to more than technology and learning and talent development in general. They include: Goal-Centric Thinking, Collaboration, Communication, Learning Mindset, Troubleshooting, and a Playful Attitude Toward Technology.
Based on my experiences in a wide variety of organizations across industries, here are some areas that I have observed where people and organizations struggle and do battle with in the ever-changing world we live in. Beyond the larger macro issues, let's just look at a personal, in-your-face experience we all have daily: always being connected and tied to our work with not an end in sight. So, what's the balance between all these shifts and how humans and technology (computer technology, digital, AI, machine learning, etc.)? Here are a few thoughts:
Laser-driven Focus, Goal-Setting, Prioritization, and Time-Management: Organizations and employees struggle with focusing their attention on what they need to do and why they are doing it. Information and activities are flying at them from all directions and they are struggling with knowing what to focus on. The distractions are endless.

Suggestion: Making and taking time to reflect and think strategically is one way of reducing the noise and clutter, and making progress on the things that really matter. Strategically and critically identifying what is in focus and filtering out all the rest is challenging, but doable.
Effective Communication, Empathy, and Influence with Emotional Intelligence, Cross-Cultural and Inter-Generational Competence, and Ability to Speak the Language of the Business Cross-Functionally: With greater complexity, organizations and employees struggle with executing because of ineffective communication and appreciation of differences. Going beyond assumed ways of thinking and working, and overcoming unconscious biases challenges everyone. The ability to effectively communicate and influence others (I prefer the term influence over persuade or convince as those terms have a negative and aggressive connotation for me). It's about recognizing and empathizing with others and being able to identify and understand other people's concerns and interests, and speak their language.

Suggestion: Build your competencies in influence and empathy and learn that there are multiple strategies to influencing depending on the situation and the individual preferences of other people. Seek out trusted individuals who will give you open and honest feedback as well as who can mentor you in the art of influence.
Fostering Organizational and Employee Flexibility, Adaptability, and Intelligent Risk-Taking: A common refrain we hear is that "taking risks" or "not getting things done in a certain" way will lead to negative consequences and even punishment. Fear of failure seems pervasive among employees in most organizations with whom we work.

Suggestion: A Leadership message around the importance of intelligent risk-taking and why risk taking is important for organizational success and survival is key. The clearer and more specific the message can be about where risk-taking is needed and where it should be avoided is critical. Visibly modeling and rewarding intelligent risk-taking from leadership downward in the organization is essential to create a culture of risk-taking. Investing in training and competency building around models of intelligent risk-taking is essential so that employees have a common language, framework, and tools to be successful.
Breaking Organizational Silos and Reducing Barriers to Collaboration and Social Networks: As companies get larger, more dispersed, diversified and global, a major challenge is to communicate across the enterprise and even have awareness of what is going on in other parts of the enterprise. Many employees feel unaware, lonely, and frustrated with all that they don't know and the challenges of getting information and connecting with the right stakeholders to get questions answered and things done efficiently.

Suggestion: Developing skills in networking, negotiation, communication, influence, knowledge management, and internal consulting supports working across organizational matrices. Creating venues and opportunities for people to meet and mix in diverse groups reduces barriers and silos. So often, we get feedback that one of the biggest values of training workshops is for people who don't ordinarily interact to get a chance to meet and discuss common organizational issues from different business unit perspectives. In addition, understanding how to communicate and collaborate using different modalities such as face-to-face, e-mail, video, immersive, and collaboration tools allows each individual to reduce the time, space, and barriers to work across the enterprise and share knowledge to drive better decision-making.
Creativity, Innovation, and Playfulness: There is a great hunger in organizations to move beyond the transactional, chaotic, and short-term and to spend time and energy on innovation and the future. The challenge is that time and attention is a precious commodity for most of us and people feel there is just not enough of it to go around to shift gears to be creative and innovative.

Suggestion: Research shows that taking time to reflect and step away from the frenetic task and activity-oriented existence we live in with digital technology can foster a mindset of innovation and creativity. It's all about reducing "screen time" that we are hearing about in the media right now, particularly as it impacts children. There is too much information at this point. Providing a framework for innovation and creativity and providing space for people to reflect and to maybe even have some fun and a sense of playfulness while working with others will help people identify and create new solutions of the future. And they will be energized and engaged!
Investing and Creating a Learning Environment: Employees in many organizations are so time-crunched it is often hard to sustain their attention in workshops no matter how immersive, interactive, applied, and real world the design is. Many organizations seem to be moving toward short and digitally delivered training with self-paced learning modules to save time and money.

Suggestion: The digital approach can be effective and efficient for specific learning needs and for different types of people. However, there is a place for group, in-person, facilitated workshops as well. It is critical to do a thorough assessment of the learning objectives, employees' learning styles, and delivery modalities to determine the approach that will have the best learning outcomes and, ultimately, the best business outcomes. It has been our experience that successful learning journeys often require a more blended approach balancing time, cost and autonomy with our very human need to relate, connect and share.
Nelson Soken, Ph.D, is CEO of N.H. Soken Consulting and Chief Innovation Strategist at Barnes & Conti
Browse the Barnes & Conti Resource Library for more articles on strategic thinking, influence, risk-taking, leadership, and other soft skills.
Articles available in the following areas:
---
More articles on Change Management
Urgency vs. Agency: Getting Commitment to Your Change Agenda, by B. Kim Barnes
---
More articles by Nelson Soken, Ph.D.
About Barnes & Conti

Influence & Communication

Innovation &
Risk-Taking

Decision-Making & Problem Solving

Leadership

Internal Consulting

Change Management

Resources

Apps for Mobile Devices

Follow Us!