The Barnes & Conti Bookshelf
Shift Into Thrive: Six Strategies for Women to Unlock the Power of Resiliency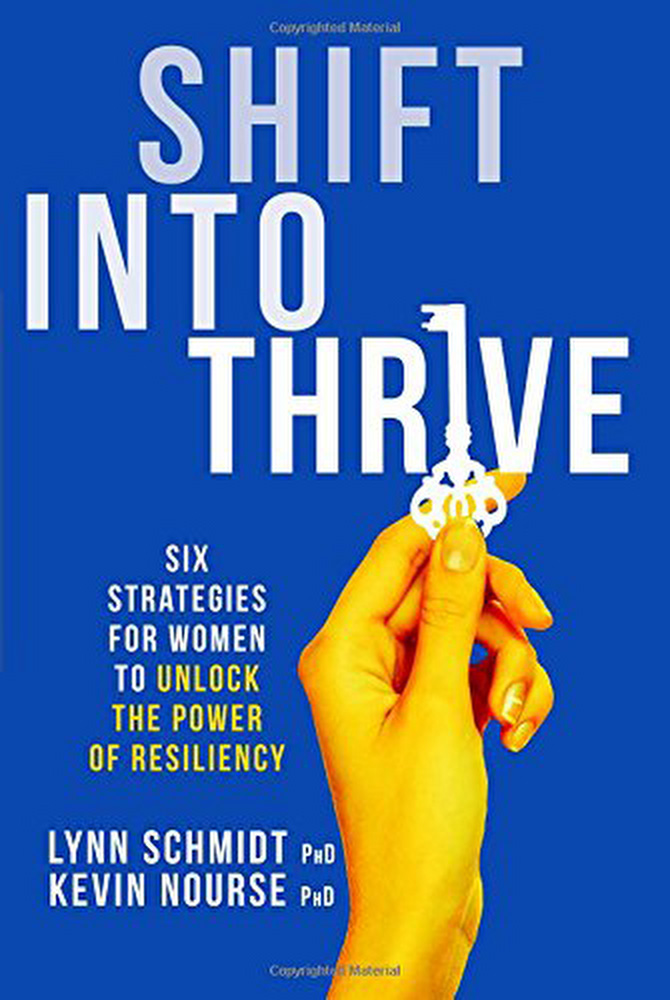 by Lynn Schmidt and Kevin Nourse
Shift Into Thrive provides six resilience-building strategies that women use successfully to thrive in the face of career challenges. These six powerful strategies, practical action steps, and inspiring stories from women around the world will enable you to create a career accompanied by growth, success, and satisfaction. Resilient women overcome obstacles and create the extraordinary careers they both desire and deserve. The ability to thrive in the midst of adversity is not a given; it is an intentional choice. Women who consciously make that choice are more likely to be transformed by their challenges.
Schmidt and Nourse each have over 20 years of experience helping women and men achieve career success. They are experts in the field of leadership development and provide leadership strategies to individuals, teams, and organizations. They conducted over one hundred interviews with executive coaches and women from around the world to determine the best resilience-building strategies for women.
About the Authors
Lynn Schmidt, Ph.D. Lynn Schmidt has over 20 years of experience as a global talent management and organization development leader in large organizations across multiple industries including telecommunications, technology, finance, aerospace and defense, and healthcare. She is a sought after presenter for both national and international conferences and presents on a variety of topics including resiliency, leadership development, succession management, talent management scorecards, and coaching. She is the co-author of four books including, Shift Into Thrive: Six Strategies for Women to Unlock the Power of Resiliency, The Leadership Scorecard and Integrated Talent Management Scorecards: Insights from World-Class Organizations on Demonstrating Value. Lynn has B.S. in Business Administration, an MBA, an M.A. in Human and Organizational Systems, and a Ph.D. in Human and Organizational Systems.
Kevin Nourse, Ph.D. Dr. Kevin Nourse is an evidence-based executive coach, organizational development consultant, and facilitator with nearly 20 years of progressive experience in both for-profit and non-profit organizations. Kevin is certified to facilitate several Barnes & Conti programs, as wells individual coaching. He founded Nourse Leadership Strategies, a professional services firm based in Washington, DC and Los Angeles, CA, in 1991. Kevin focuses his practice on developing resilient change leaders across a wide range of industries and competencies. Kevin has an MA degree in human resource development and he earned his Ph.D. in human and organization development from Fielding Graduate University. Kevin is on the faculty of the Georgetown University Coaching Certificate program.
What Others Are Saying:
"The clear six-step framework that the authors suggest hold some of the best career coaching tips that I have seen. For any woman who wants to improve her game or any organization that wants to develop its women leaders, this is a great resource."
—Beverly Kaye, Founder, Career Systems International and Co-author, Help Them Grow or Watch Them Go: Career Conversations Employees Want
"Shift Into Thrive has riveting stories and a powerful framework. If you're looking to build your resiliency, this book shows you how to do it step by step. Nothing could be more timely for women who want to overcome work related challenges, or who feel discouraged or stuck in their work. I can't recommend it enough."
—Sally Helgesen, Author, The Female Vision and The Female Advantage
"Lynn and Kevin have written an insightful, down-to-earth source with a practical, easy-to-use process to boost your resiliency. Packed with real-life stories, action steps, and examples that bring the six strategies to life, the authors take you on a mind-expanding journey to build skills and competencies to navigate life's challenges with confidence and a clear focus. This book will empower you with the tools to "bounce back" and maintain the course to achieve your goals and objectives."
—Dr. Edward E. Hubbard, Author, The Diversity Scorecard
About Barnes & Conti

Resources

Apps for Mobile Devices

Follow Us!

Influence & Communication

Innovation &
Risk-Taking

Decision-Making & Problem Solving

Leadership

Internal Consulting

Change Management