Reflections from ASTD 2013
We at Barnes and Conti had a wonderful time at the ASTD 2013 International Conference and Expo. Read below to see what each of us found especially exciting.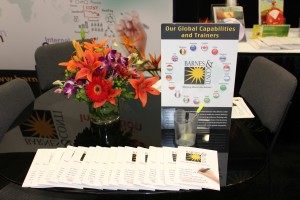 Here are some ideas that you can take with you for the 2014 conference in Washington D.C. – we hope to see you there!
Ten Tips for Participating in ASTD 2014:
1)   Think strategically by arriving at the concurrent sessions early so that you get a seat before they fill up!
2)   Manage innovation by keeping your notebook with you at all times. You never know what ideas may hatch from talking to participants, going to the sessions, and engaging with the exhibitors.
3)   Exercise your influence skills by talking to exhibitors or other attendees to see how they can help you move your ideas into action.
4)   Apply your creativity by considering how the new ideas you learn during the sessions or expos might fit into your current business model.
5)   Practice your inspirational leadership by helping lost attendees find their way around the expo. You never know what connections will develop.
6)   Prevent conflict between your feet and your attire by wearing comfortable shoes or breaking in new shoes at least two weeks before the conference (Rebecca learned this the hard way).
7)   Build working relationships by bring your business cards and passing them out.
8)   Meet as many people as you can, you never know what new things you can learn and how your company may be able to help them.
9)   Increase your social media skills by finding out what the conference hashtag will be. Listening to #ASTD2013 was helpful to hear about what all the attendees were learning and attending.
10) Facilitate forward by making the decision not to set your emails to "away." You don't want to miss any opportunities from people you meet that email you right away.
Barnes & Conti Conference Reflections:
Kim Barnes, CEO: "No matter how often I attend/ exhibit at ASTD (and I have been doing so for at least 25 years) I always come away refreshed, excited, and with so many new ideas! It was wonderful to see long-time friends and colleagues and to meet new ones. Thanks to everyone who came by our booth and shared your ideas, needs, and enthusiasm with us. I'm looking forward to talking with or seeing many of you soon again."
Eric Beckman, President: "There were a lot of really interesting international delegates at the conference. It was a pleasure getting to know some of them better. And it was great to have my thoughts reaffirmed about mobile learning being the new aspect to incorporate in training and learning efforts."
Lauren Powers, SVP, Business Development: "It was so terrific to see so many folks attending ASTD this year. We loved feeling the energy and passion of the practitioners and learning about the exciting training and development initiatives underway. It appears that companies are more ready and able to invest in learning this year and we are simply delighted to see our colleagues energized and ready to get on with the work we love!"
Rebecca Stern, Marketing Associate: "It was a pleasure meeting all of our clients and making new acquaintances. I loved finding new ideas from the other exhibitors and helping attendees learn about how our company can help them move ideas into actions. As a graduate student, I was happy to have learned so many interesting e-learning design principles from concurrent sessions with Kirkpatrick, Michael Allen, and Lou Russell."