Envisioning that Inspires: MLK's Dream
When I have asked participants in our Exercising Influence program for examples of "envisioning," MLK's "I Have a Dream" speech is always cited. And each time I read the speech – some of which was improvised – I am once again moved and deeply respectful of the tradition, the passion, and the art that came together in these classic words at this intensely influential moment in our history. The speech is based in the traditions of black evangelical preaching, fired by the passion of the movement for freedom and equality, and extraordinarily artful in its use of visual and auditory imagery. The speech takes the listener even today to a future full of possibilities, based in the shared values of our nation. It was focused on this end and invited listeners to find positive means to get there. King used metaphors and references to stories with which his audience was familiar to connect with and inspire them.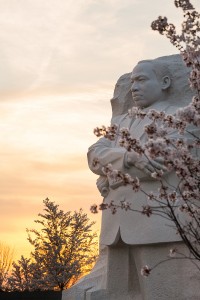 In our Exercising Influence program, we suggest the following criteria in order to create a compelling vision in the mind of other people:
The vision is:
Clear and descriptive: focused on where we are going, not on how to get there.
Positive, optimistic; set in the future after success has been achieved.
Inclusive; others can see themselves in the picture.
Based on common goals, values, and benefits.
In King's beloved, classic speech, he has illustrated how a vision can energize and inspire others to action. Just to remind you of a few of the compelling phrases…
And so even though we face the difficulties of today and tomorrow, I still have a dream. It is a dream deeply rooted in the American dream. I have a dream that one day this nation will rise up and live out the true meaning of its creed: "We hold these truths to be self-evident, that all men are created equal."
I have a dream that one day on the red hills of Georgia, the sons of former slaves and the sons of former slave owners will be able to sit down together at the table of brotherhood. 
I have a dream that one day even the state of Mississippi, a state sweltering with the heat of injustice, sweltering with the heat of oppression, will be transformed into an oasis of freedom and justice. 
I have a dream that my four little children will one day live in a nation where they will not be judged by the color of their skin but by the content of their character. 
I have a dream today!

…
And so let freedom ring from the prodigious hilltops of New Hampshire. Let freedom ring from the mighty mountains of New York. Let freedom ring from the heightening Alleghenies of Pennsylvania! 
Let freedom ring from the snow-capped Rockies of Colorado! 
Let freedom ring from the curvaceous slopes of California!
 But not only that. Let freedom ring from Stone Mountain of Georgia!
 Let freedom ring from Lookout Mountain of Tennessee!
 Let freedom ring from every hill and molehill of Mississippi. From every mountainside, let freedom ring.
 And when this happens, when we allow freedom to ring, when we let it ring from every village and every hamlet, from every state and every city, we will be able to speed up that day when all of God's children, black men and white men, Jews and Gentiles, Protestants and Catholics, will be able to join hands and sing in the words of the old Negro spiritual, "Free at last! Free at last! Thank God Almighty, we are free at last!"
Contribution by Kim Barnes