Building a Labor Day Totem Pole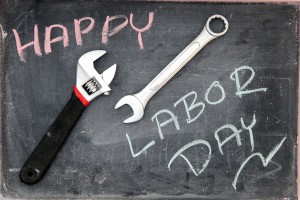 In celebration of Labor Day, Barnes & Conti invites you to participate in our Labor Day story totem pole. Today's workforce is so diverse and fluid, being recognized for your efforts can be tough. Since the beginning of Labor Day 100 years ago, there have been many changes in the world of work – but everyone who has ever worked for a living has a story or several to share.
Please contribute to our Story Totem Pole by writing in 200 words or less, a story about how you have contributed something important or unusual to others through your labor at any time during your career. Your stories will be published in our monthly newsletter at the end of September.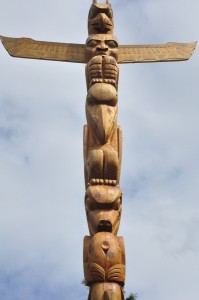 We will start it off:
Kim Barnes – My first career was as a special education teacher, and this story took place in my fourth year as a teacher. In those days, pregnant women were not supposed to continue working after their condition began to "show." As I carried my first baby right in front, I looked seven months pregnant after three months – and it was only March! They tried, but couldn't find anyone else with the credentials to take my place in the class for kids with "special learning problems," so I continued to work right through the rest of the school year. The principal, a tall, blonde, unimaginative man, blushed and looked away every time he passed my classroom, but that meant he left our unit alone and we were able to do a lot of creative work – so my contribution to the world of work in that long-ago time (1962) was to keep the principal out of our hair so we could do the work that we were meant to do!
Lauren Powers- One of my most impactful work experiences came from when I was 17 years old and volunteered one summer through the American Friends Service Committee to work with the United Farm Workers (UFW). This was during the early 70's; the farm workers were gaining momentum in their organizing efforts and there was quite a bit of violence on the picket lines as they were gathering their strength as a union. We joined them to help build a retirement home for migrant workers on Forty Acres (site of their Union Hall) in Delano, CA. Never having done construction work, a group of 12 inexperienced teenagers joined a crew of other equally inexperienced volunteers. We lived communally and worked from 5am-1pm as the heat of the day could soar well over 110 degrees.  We worked side-by-side with elderly migrant farm workers who seemed to be oblivious to heat and hard work.  We were visited by Cesar Chavez and enjoyed a few dinners conversing with him, other members of the UFW leadership and some migrant farm worker families learning about their strife. This experience taught me about how difficult work can be and how hard people work. It informed me of need for fairness as it relates to providing an adequate living wage, benefits and good quality working conditions. It showed me the value of teamwork as unskilled laborers came together to construct a multi-building structure that would serve as a home for those who had worked so hard. It demonstrated the importance of community and showed us all the power of what a truly inspirational leader and group of committed folks can accomplish by working together.  On this Labor Day, let us remember those who do hard work and work so hard, and continue the endeavor to fight for fairness.
Janne Rochlin – I am the Vice President of Delivery and Development at Barnes & Conti. I began my training career at a large, national insurance company. I was involved in a two week academy in 1989 when the earthquake that affected the San Francisco Bay Area hit. Besides comforting those out-of-towners who had no idea what had happened or how to react to it, I spent the next several weekends on the phones contacting all our insureds to see if there was anything we could do for them, even if it was just to talk about their fears and feelings. Most were not insured for earthquake damage but were relieved just to have some empathy with another human being.
Elaine Turcotte – Operations Manager.  When I think back over the jobs and the volunteer projects I've worked on, what stands out immediately are the people I've worked with, and the life stories they shared with me.  Despite our claims to fame, most of us will work our entire lives and never be known beyond a small circle.  We labor to earn, to build, to serve others, but if we are not focused on the people around us, supporting, encouraging, helping, teaching, healing and inspiring each other, then our life work is a dead end.  Before I started working at Barnes & Conti I was unemployed, so I helped a friend tear out and redo his kitchen.  He's a talented organist and does organ repair work on the side.  He liked working with me so much, he got his organ builder friend to hire me onto a big project they were starting in San Francisco.  We spent a year up in the rafters and crawl spaces of a church dismantling the old organ and building completely new chambers, lines, wind chests, then installing and tuning hundreds of pipes. We built a full-scale pipe organ, and like so many projects, we're the only ones who will ever know that!  Yet more important to us, we will always treasure our time working together.  Happy Labor Day!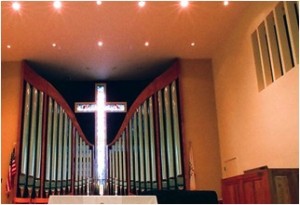 David Heneghan – It's important to me to be doing something I believe in and, fortunately, my career has given me many opportunities. One example that had a profound impact on me was working in the field of organ and tissue donation and transplantation. I had several roles at the California Transplant Donor Network where I worked with doctors and nurses to help them improve donation processes and support donor families. I also managed public affairs and helped educate the community about donation. In each role I was inspired by the commitment of medical professionals, the giving nature of donors and their families, and how recipients show their gratitude for the gift of life.
Rebecca Stern – I am currently the marketing associate at Barnes & Conti. I have held over eight jobs in the last fifteen years. When I worked at Whole Foods Market, I was known for being a dedicated and hard worker. Because of this, I was asked to represent the Berkeley Cheese Department in the annual Parmesan Cheese Cutting Competition. I had no arm strength, but I figured I had nothing to lose, so I did it. I ended up losing the competition, but I was able to educate our customers about the magic of Parmesan cheese and show other employees that working hard pays off. I was also able to show them my pulled muscle; that's a hard cheese!
Please comment below to add on, or comment on our company LinkedIn page. And sign up for our Newsletter to see your story published.