For decades the World Cup has had a powerful influence in connecting the world. People flock to their neighborhood pub or outdoor viewing area to watch with their friends. Many gather in venues where the event is taking place so that they can see it live. People discuss the games in coffee shops, in the workplace, around the family table. Every four years, the world comes together to experience the excitement and suspense of the "beautiful game."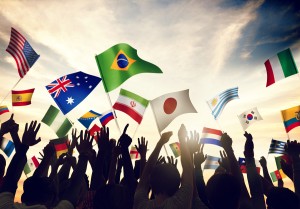 Now, with the advent of social media, the influence of the World Cup is even more powerful. Let's let the numbers do the talking:
1) 18.22 million viewers were influenced to watch the match between the U.S.A. and Portugal, a record high.
2) According to a CNN article, "The tournament's first week, June 12 to 18, spurred 459 million posts, likes, and comments on Facebook. Compare that to 185 million interactions about the Super Bowl, or 120 million for the Sochi Winter Olympics."
3) As of  last week, the top World Cup scorer is James Rodriguez from Colombia, scoring  five  goals –  influencing 6,001,632 fans to  like him on Facebook.
4) Twitter has influenced World Cup fans to tweet 1,427 tweets per minute.
5) Another CNN article explained that, "FIFA predicts a cumulative audience for the tournament of 26.29 billion viewers…part of the World Cup's appeal lies in the fact that it touches virtually every society on the planet."
So…what can we learn about influence from the World Cup?
We're moved to action by knowing that our friends and colleagues enjoy, understand, and/or participate in something – and we want to join them.
We want to be part of something that's larger or greater than ourselves.
We want to be seen as winners or supporters of the winning side (or idea).
We love drama, conflict, and the good-guy, bad-guy narrative – even if we're peace-loving good citizens ourselves.
We enjoy excitement and expressing emotions in a safe setting.
Our "mirror neurons" can help us feel that we're part of the story.
What else can we learn and how can we use it to gain support, followers, and success by studying this "globally local" phenomenon? Comment below!