As internal consultants it's very likely that your weakest initiatives were due to issues with your client relationship. Maybe the client was holding back information from you, or maybe your client was uncomfortable giving you access to other sources of information.
Considering strengthening your client relationships is essential to your success as internal consultants. A strong client relationship will increase the trust your client has in you, which will enable them to confide in you without fear of reprisal or loss of reputation.
It is important to build your client relationship as early as possible. Although you may already know the client, the first meeting provides you with the most leverage to establish the parameters for the work and the best opportunities to build a strong client-consultant relationship. Think of the relationship as a long-term process that should be balanced with being task-focused, achieving results desired by the client, and adding value.
So how do you get started in building a strong client relationship?
Here are eight tips that will help you prepare for building your relationship:
1)   Use open-ended questions and listen actively to responses
2)   Consider what you do not know and confront your own concerns and issues
3)   Model the behaviors you desire from the client
4)   Use language familiar to the client and consider other ways to be in their comfort zone
5)   Take a flexible approach, be observant, and use a style that the client responds to in a positive way
6)   Adjust to changes in expectations or plans; become comfortable with accepting ambiguity
7)   Take notes on both the content and the process. Summarize any decisions at the end of the meeting, and check for agreement
8)   Hold difficult meetings at peak performance time
Good luck with your next client engagement.
And for more support, click the image to access this free white paper, The Influential Internal Consultant: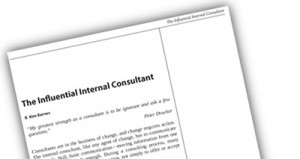 We would love to hear additional tips from you as to what you have found most helpful for building strong relationships.
Please provide comments below.