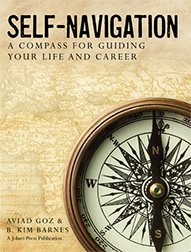 Our own Kim Barnes and Aviad Goz, founder and Chief Visionary Officer of N.E.W.S.™ Coaching and Training, have co-authored a book on self-navigation entitled, Self-Navigation: A Compass for Guiding Your Life and Career . The book has just been published and is now available through Amazon.
Self-navigation—keeping one's eye on the "compass" in the midst of change and ambiguity—is based on a model that is used by multinational companies and leaders to help them navigate their careers, their teams, and their organizations through the complexities of the current business environment. Navigation skills can make anyone's life more exciting, satisfying, and productive.
In the book, Kim and Aviad discuss:
How people make choices for their lives and the consequences of poor decision-making
Four steps for taking control of and navigating one's life and career
An easy-to-understand system of navigation for individuals, teams, and organizations
Good decision-making in times of great change
Here are a couple of early reviews:
"There is no greater need for people working today in a context of great change than practical tools to help them navigate. Aviad and Kim are two world thought leaders who offer us a way to personal transformation…to feel more clarity, motivation, confidence and focus. Enjoy the journey…"
—Peter Nankervis, Knowledge Director of Lighthouse Australia, Sydney, Australia

"The concept of self-navigation is one that can change the life of a person when completely understood. This book will be of tremendous help to people who really want to change the default choices that have led them to a different life from the one they want. Un grand bravo to the authors."
—George Stoleru, organizational coach, Paris, France
Visit Amazon.com for more information, or to purchase the book.