Kim Barnes: Innovation and Influence in Chile
(First of a two part series)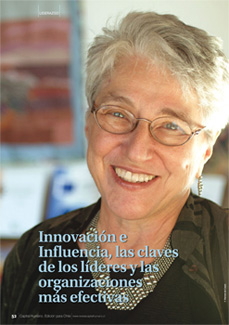 This past October, Kim Barnes was featured in an interview in the Chilean Magazine, Capital Humano. The interview focused on influence, innovation, leadership, and it touched on Latin American culture. We've excerpted the interview into a two-part blog series. Below are Kim's thoughts on innovation and innovation management. Look for the influence portion of the interview soon!
Innovation and Influence: Kim's Interest in Both
I have always been interested in how people and organizations work—why are some people more effective at getting things done than others? Why are some organizations more consistently innovative than others? I thought some of it was innate, but some of it could be learned. I studied and observed patterns of behavior in individuals that seemed to help them lead others—leaders that people followed because they wanted to, not because they had to. I compared how different organizations approached innovation—how their culture and leadership encouraged creativity and invested resources to make sure that the best ideas were enabled to create value.
Challenges to Innovation and Innovation Management
I think we should define innovation first. Innovation means creating some kind of value—not necessarily financial—from an idea that is new to you. (It does not have to be new to the world – that would be invention.) First of all, managers need to know how to create an environment in which unusual and creative ideas can be heard. They need the skills to help people think through their ideas without guiding them or judging them too early—even positive evaluation can limit the thinking of a group or individual.
In order to achieve successful innovation, you can't run with the first good idea you hear. Innovation happens when many, many ideas are generated and then they are put through a process to filter out the most interesting and potentially valuable ideas. So one obstacle is trying to move ahead too soon. A difficult practice—which occurs later in the "innovation journey"—is to create a process where ideas can be tested, then challenged, and validated by potential stakeholders.
Another common problem for many organizations is their unwillingness to be ruthless in cutting off resources to old products, processes or technologies in order to provide resources for new ones. One of the most frequent problems is that once an innovation is completed and implemented the manager does not make sure that the team learns from what worked and what didn't work. The manager also doesn't improves the innovation, or finds other uses for it. The team doesn't get nearly as much value as an innovation can provide if it is "optimized." (Ed. Note: optimization is the last phase of the Innovation Journey in which the innovation is assessed.)
The Innovation Journey: Overcoming the Challenges
There are five different phases in the journey of innovation and each one requires a different mind-set or attitude on the part of the leader or manager as well as a different set of skills. The effective manager of innovation needs to understand this and change his or her attitudes and behaviors as the team moves through the journey.
Having a clear model in mind can help a manager make those shifts at the appropriate times—sometimes moving forward, sometimes back to a previous phase when needed. The innovation journey is "adventure travel"—there is no map to get to the end result if you have not been there before. Therefore, the manager has to be flexible—willing to have the team explore different paths and encouraging the team to fail early and move on to something new—rather than following a path that will not get them where they want to go.
Final Thoughts
The world is becoming more and more complex. Organizations need to become much more agile and versatile if they hope to survive and thrive in this new global business environment. That means they have to learn all the time, be open to ideas from both inside and outside, avoid holding on to old products, processes, and paradigms.
Note: The excerpts were taken directly from Kim's English responses to the questions. The entire interview, translated into Spanish, can be downloaded from our website.