Happy Holidays from Barnes & Conti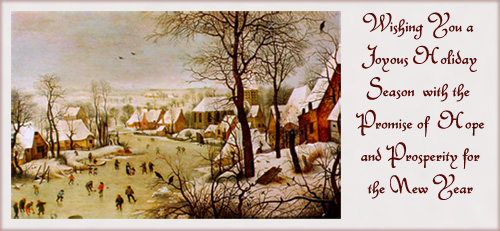 For those of you who didn't get our holiday newsletter, let me quote an excerpt from Kim Barnes' holiday greeting to all our friends, fans, clients, and colleagues:
This has been an interesting year for many of us. (I am reminded of the old Chinese curse, "May you live in interesting times!")  It has been a year of change and loss as well as excitement and opportunity…

One of my favorite and most uplifting moments this year came in a conversation with one of our partners in Chile. He mentioned that the amazingly quick—though still incomplete—recovery from the earthquake, their success in the football World Cup, and finally the extraordinary rescue of the trapped miners gave Chileans a new view of themselves. Having lived through a terrible dictatorship for so many years, doing things "the Chilean way" had been a rather sarcastic term—but now it had become positive. My colleague smiled and I was struck by how quickly it had been possible to turn attitudes around. Of course, things there have changed for the better slowly and surely over a period of years, but it took these dramatic events for people to catch up with themselves.

My wish for everyone for the new year is that we all look down, or up, or out, and notice that things are improving—though far too slowly—and that we allow ourselves to celebrate what we have and what we have learned. We are wiser, perhaps a little tougher and more thoughtful than before, a little less prone to wishful thinking—but maybe more open to new ideas and change…

We wish everyone a joyous holiday season and a happy, healthy, prosperous and fascinating new year—with a new, can-do view of ourselves, our families, our businesses, our nations, and our world.
Again, happy holidays to all! The blog will back after the New Year.