Courage and Croissants: Personal Change Management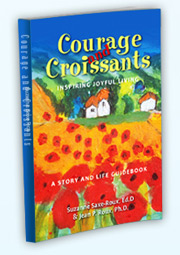 Suzanne Saxe-Roux is a longtime friend of Barnes & Conti's who recently published a book entitled Courage and Croissants: Inspired Joyful Living. Suzanne is a consultant, coach, and speaker who specializes in life/work and lifestyle issues. We'd like to tell you about the book, not only because Suzanne is a friend, but because it deals with an issue that is important to all of us at Barnes & Conti: joie de vivre. (Our annual holiday newsletter, with recipes and wine recommendations reflects that. Look for the holiday newsletter in a week or two).
Courage and Croissants also appears to be about change management, albeit in a very personal way. Suzanne and her husband made a lifestyle change that some of us only dream about. Here's a brief description of the book:
Courage and Croissants is the story and a life guidebook of a mid-life, dual-career couple with a young daughter who took the risk to go in search of what was truly important to them. At its heart is a love of family and the desire for a better quality of life. It is a story for anyone who has ever wondered—is there more to life? It's a story and a guidebook about knowing when it is time to compose a different life experience, having the courage to make dreams happen, embracing the simple joys of living, and focusing on what is important in life. It is about learning the French secret to living with joie de vivre wherever you might be.

Reeling from the stress of life as dual career parents and from eye-opening struggles with infertility and cancer, Suzanne Saxe-Roux and her husband Jean P. Roux do what millions of people only dream of: leave their jobs, rent out their home and move to the south of France with a young daughter in tow. There, they unplug and search for the joie de vivre missing for so many modern families. It is an act of taking back control of life in small and big ways, reclaiming their creative sides while embracing a change of priorities and pace.

Courage and Croissants is a gripping memoir and guidebook; it reveals the secrets of French joie de vivre that Suzanne and Jean discovered and maps out the steps to recapturing simplicity, joy, happiness and the ability to follow your dreams and lifestyle choices wherever you are.
I hope to read the book soon. I'm not sure I'll be able to make my own move to the South of France—not yet, at least. Of course, there are other changes we can make for our lives, our companies, and our organizations. Barnes & Conti is always ready to provide consulting, coaching, and programs for managing change in your organization. And our friend Suzanne Saxe-Roux—and her recent book—will certainly help with the lifestyle changes. Now if you'll excuse me, I think I need a croissant, or a pain au chocolate…